NYpuppets.org
We are dedicated to building up our puppet theater community and expanding our audiences. We are grateful for your involvement and thank you for sharing your enthusiasm.

This free, members-only website contains discounts and special offers to puppet theater productions in NYC and vicinity.
As a user of NYpuppets.org, you can log in for special offers: discount tickets, festival passes, invitations to special previews and openings, meetings with artists and much more.
UPCOMING AS OF JANUARY 29, 2015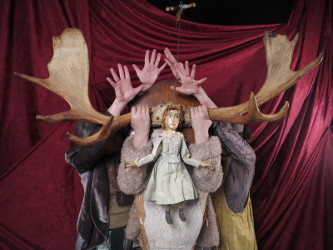 Princess puppet and hands of the cast. Photo by Jonathan Slaff

MARCH 5 TO 22, 2015
THEATER FOR THE NEW CITY
"THE MAGIC GARDEN, OR, THE PRINCESS WHO GREW ANTLERS" BY CZECHOSLOVAK-AMERICAN MARIONETTE THEATRE
For the delight of audiences aged five to 105, Chechoslovak-American Marionette Theater will perform its newest work, "The Magic Garden, or, The Princess Who Grew Antlers," an ensemble creation that is cheerfully concocted from three Czech fairy tales in which antlers appear. Features four performers, marionettes of various sizes and assorted antique moose and deer antlers. Vit Horejs directs.
---
PUPPET FORUM
DOES THE ELIZABETHAN UNDERSTANDING OF THE ACTOR AS PUPPET UNLOCK THE MEANING OF SHAKESPEARE'S PLAYS?
The occasion of The Dark Lady Players' performance of "Shakespeare's Anti-Christian satires: The Virgin Mary Parodies" gave us the opportunity to investigate how Elizabethan Meta-Theater could be enacted with contemporary puppet theater.
So we asked John Hudson, the theorist and dramaturg of The Dark Lady Players, to illuminate the possibilities. We learned, in short, that all puppetry is metatheatrical but not all metatheater is puppetry.
---
PUPPETRY WITH A SOCIAL CONSCIENCE -- Theater for the New City hosted a panel entitled "Puppetry with a Social Conscience" on December 11, 2008. Some of New York's leading puppet theater artists discussed how our world is reflected in the eyes of the Puppet.
Panelists included Peter Schumann, head of Bread and Puppet Theater; Vit Horejs, head of the Czechoslovak-American Marionette Theater; Jane Catherine Shaw, co-artistic director of the Voice 4 Vision Puppet Festival; John Bell, theater journalist and puppet theater artist; and Eileen Blumenthal, author of "Puppetry: A World History," an authoritative book on puppet theater. The event was moderated by Crystal Field, Executive Director of Theater for the New City.
Listen to an audio recording of
"Puppetry with a Social Conscience"
If you navigate away from this page, this flash recording will stop. But you can listen to the recording while you browse: click here to play through your computer's media player. (Download time: five minutes) © Copyright 2008 Theater for the New City. All rights reserved--no commercial use or reproduction without permission.
Our slide show begins with photos from "Puppetry with a Social Conscience" and continues with selected photos of productions that participated in the Passport to Puppet Theater (precursor to this website) between 2005 and 2008. Photos by Jonathan Slaff.
About this website: NYpuppets.com is a successor to the Passport to Puppet Theater (2005-2008), which was a program sponsored by The Linux Loft and supported by the Jim Henson Foundation.
Presenters: If you would like to propose an offering for an upcoming puppet theater production for this page, contact us at: NYpuppets "at" acedsl.com. Describe your project and give us your contact info. Be creative! Offerings can include discount ticket offers, invitations to special previews and openings, meetings with artists (actors, directors, etc.) and much more. Visit out FAQ's.
Login | Register | Password Reminder
Update your profile | Cancel your membership